2016 YEAR END ROUND-UP: Our most loved and spun records
Let's face it...2016 seems like a blur. There was some truly great music released in what was a rather tumultuous year (mostly in the first half), and some of the things on this list you will have seen on our earlier recap (actually, quite a few things). What we are MOST excited about now are the excellent titles on the horizon for 2017. January will come in roaring with new offerings from great artists like the Flaming Lips, Run the Jewels, and the XX, followed quickly by Japandroids, Ryan Adams, Depeche Mode, and longtime gone artists like the return of Ride, the Feelies, and the Jesus and Mary Chain. The Shins, Elbow, Gorillaz, Sun Kil Moon, Temples, and Spiritualized all have albums coming during the first part of the year, with others promised by Arcade Fire, Haim, Erasure, Sky Ferreira, Charli XCX, Grandaddy, Strand of Oaks, and heavily mentioned albums from Beck and Bruce Springsteen (which are yet to have dates attached). But first...
Here is our list for 2016. It is completely subjective and based on what we enjoyed and played a lot. It may not all resonate with your taste, but maybe you'll see something and want to check it out. Who knows? Maybe you'll even come purchase the title if you enjoy it enough. Whatever the case, we are listing our top 30 and after that mentioning more we really liked...a LOT...
1) DAVID BOWIE--Blackstar
Maybe this isn't really surprising, although it did come out only a few days into the year, and in the following weeks after his passing managed to stay on top. His loss is immeasurable.
2) RADIOHEAD--A Moon Shaped Pool
After the tepid
King of Limbs
, the lush and haunting arrangements of Radiohead's latest release were supremely fantastic, and in any other year in which David Bowie's death and the release of his final record had happened, this album could have easily been at the top. Always the bridesmaid...
3) NICK CAVE & THE BAD SEEDS--Skeleton Tree
Coming to grips with the death of a child is one thing. Challenging your art through a poetic song cycle loosely connected to the event is harrowing. Nick made us feel his pain on this album, and while none of it will receive radio airplay, that doesn't seem to be a concern here. Stunning and cathartic.
4) ANOHNI--Hopelessness
In a year in which Anohni blasted Obama in song about his policies on drone bombing and the middle east, one can only imagine what Anohni would have to say in song about the recent election winner. That being said, Anohni really opened her sound on this album, embracing technologically produced music more than ever before (case in point: Her history in Antony & the Johnsons' chamber pop style), while also embracing her new transgender status as Anohni. A passionate record about a number of socially disturbing issues set to a detailed electronic backdrop that sets the bar high.
5) CASE/LANG/VEIRS--Case/Lang/Veirs
One would think this rather conventional album of Laurel Canyon-styled female sung tracks is sort of ho-hum, and that may be so on the surface, but dig into the songs and performances, and be prepared for something very special. While kd lang gives some of her best vocal performances EVER and Neko Case features in some very fine arrangements evoking the expanse of open spaces of the west, the revelation here is Laura Veirs, who imbues these songs with a lot of personality and care. Her songs are excellent vehicles for all three of these remarkable women to interpret.
6) ROISIN MURPHY--Take Her Up to Monto
Murphy can be a hard egg to crack, a maverick soul singer from Ireland who is more Grace Jones than Enya, and a fearless artist who puts the blue-eyed soul of influences like Scotland's Annie Lennox into her quirky and off-beat R&B. Her second comeback record after last year's
Hairless Toys
, the eight year break seems to have made her even more resolved to forge her own unique path. The impressive body of work expands then...
7) SCHOOL OF SEVEN BELLS--SVIIB
The final School of Seven Bells album was a bittersweet sendoff for the duo, anchored by Alejandra Deheza's ethereal vocals and Benjamin Curtis' gorgeous soundscapes, work on this album had begun while Curtis fought for his life against lymphoma, a battle he sadly lost in 2013. Deheza was left with an album she wanted to complete in a way that paid tribute to the depth and beauty of the music they created together. It's an album you can practically feel the tears falling from, and yet there are moments of hope and optimism that are embodied in the clarity of lyrics coming into focus. What a brilliant sendoff fitting of their all-too brief legacy.
8) NIKI & THE DOVE--Everybody's Heart is Broken Now
Every year needs a melancholy dance record, and this lovely diamond of an album from this Swedish duo sounds like being transported back to the era where Prince and Stevie Nicks were making tracks together in the studio again. This sophomore album is looser and more fun than it's predecessor too, with tracks like "Coconut Kiss" and "Shark City" displaying a fun, tropical side. Just wish the distribution of this album wasn't so difficult--vinyl copies are available only online from Europe (expensive shipping), and they refused to make a CD (a sentiment shared by Kanye West). There are downloads, but then you might miss the bonus vinyl-only tracks (also great). When did supporting your favorite artists become such a chore?
9) SUEDE--Night Thoughts
Suede have been cursed for their past two comeback efforts by releasing their albums at virtually the same time David Bowie was releasing his comeback albums (and this time he even died, ensuring Suede wouldn't receive nearly as much press). What a great album this was, probably their best since the classic
Dog Man Star
of 23 years ago. Hopefully their reunion and renaissance continue, because they just keep getting better. A perfect example of carrying on the Bowie legacy too.
10) PET SHOP BOYS--Super
Talk about veterans, this duo who began their world dominance in 1985 with a little #1 called "West End Girls" are still going strong over 30 years later.
Super
features everything you'd want from Pet Shop Boys in 2016: Wry, deadpan vocals, smart lyrics, electronic flourishes, groovy beats, all tied together with some banging tunes. More than spinworthy.
11) AVALANCHES--Wildflower
Sixteen years in the making, the new Avalanches album is a fabulous mix of modern hip hop and the cut and paste culture of sampling. Supposedly it took them years just to clear the samples...it was worth the wait.
12) IGGY POP--Post Pop Depression
The same year we lost Bowie we also got one of Iggy's best albums in decades. With help from Josh Homme of Queens of the Stone Age (and an Arctic Monkey), Pop returned focused, refreshed, and ready to cement his status as one of the most exhilarating personalities ever to prowl a rock and roll stage. This album was his vehicle.
13) GARBAGE--Garbage
With popular music being so watered-down and antiseptic these days, the world could use a good shot in the arm from Shirley Manson, Butch Vig, and Co.
Garbage
was a record that returned them to their glory-day mid-90's, Filled with the band's signature precise aggression and Manson's dark and provocative lyrical tropes. If she hasn't already been crowned heir to the Debbie Harry throne, she surely should be.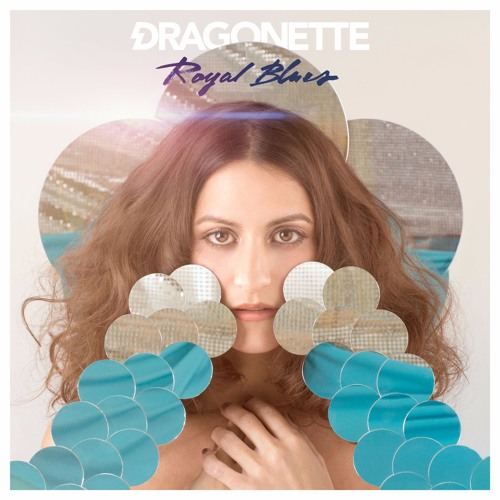 14) DRAGONETTE--Royal Blues
In an alternate universe, if there were any justice, Dragonette would be massive stars. They make the kind of catchy pop people SHOULD be listening to in 2016. Thoughtful and inventive (and so. damn. catchy!), their fourth album was a four year labor of love where the core duo of this Canadian trio (Martina Sorbara and Dan Kurtz) went through a divorce and had to find a way to move on and continue working together. This became the fire for what would be possibly their best album yet. How this isn't being pushed by a major label is baffling as they could seriously reach a wider audience (the record is also rather difficult to get). If you like well-crafted pop music, this one's for you.
15) MEILYR JONES--2013
Meilyr Jones is a rather unknown Welsh singer-songwriter who was in a briefly-lived band, Race Horses. In 2013, with his band breaking up (as well as his relationship), he wrote some tender and thoughtful songs, ran to Rome for some breathing space, and brought in some chamber musicians to help shape this wonderful little record, a meditation on art, love, and optimism in the face of adversity. If Belle and Sebastian is your thing, you may like this.
16) LAST SHADOW PUPPETS--Everything You've Come to Expect
Brilliant second offering of Arctic Monkey's side project featuring Alex Turner and Miles Kane. It's like a smoother and sexier version of that band, with track suits. Feel the swagger.
17) UNDERWORLD--Barbara, Barbara, We Face a Shining Future
The latest Underworld record sees the duo reclaim a bit of what made them special in the first place over 25 years ago, while also pushing their sound forward with some interesting turns. Karl Hyde's time spent working with Brian Eno over the past couple years (two albums as Eno+Hyde) seem to have given him a little jolt in creating the vocals on these tracks, which morph and grow in interesting directions. There's even a bit of ambient stuff going on. Even Hyde and instrumentalist Rick Smith's daughters are feature vocalists on the final two tracks...a family affair!
18) BRIGHT LIGHT BRIGHT LIGHT--Choreography
Rod Thomas' journey as Bright Light reached a new zenith this year as he went out opening for Elton John on an expansive tour, and released this gem of a pop album with its roots planted in the 80's but featuring a much more contemporary vibe. Comprised of catchy dance tunes and ballads, Thomas was inspired by dance scenes from a host of classic films to construct these songs, and featured small video clips of the scenes set to his finished songs online. Guest artists include Elton John, Alan Cumming, and every member of the Scissor Sisters. Not bad.
19) ABC--Lexicon of Love II
Martin Fry was ready to make a new ABC album (it had been roughly eight years since
Traffic
) when he got the idea of making a sequel to his classic album of 34 years ago as a man who has seen love and moved on in life. He even reunited with Anne Dudley, orchestrator for the original album (and arguably as much or more important than original producer Trevor Horn, was was sadly not used on this album), and her arrangements pump up the well-produced songs into more Lexicon-esque territory. It is a perfect fit for Fry's wry and nuanced vocal performance, bringing Lexicon to a new generation of listeners while keeping it modern.
20) YELLO--Toy
For nearly 40 years the Swiss duo of Dieter Meier and Boris Blank have been turning out quirky pop confections and dada-ist artscapes (or both; see Ferris Bueller-theme "Oh Yeah"). After an eight year silence, it's doubtful anyone expected these guys to put out a record in 2016. Not only that, it's thoroughly fun, weird, and well-made at the same time. Perfect music for the crazy year we've had.
21) GAZ COOMBES--Matador
Supergrass mainman goes solo with a fantastic album of rock arrangements encompassing thoughtful arrangements and styles. Superior musicianship is the key as Coombes casts off some of the jokey-ness of his former group and gives us something deeper like 90's-era Radiohead. An overlooked gem.
22) JAGWAR MA--Every Now & Then
These Australian mavericks love mixing it up. One minute it's Oasis-style Britrock, the next Primal-Scream-indebted house music with trippy psychedelics. Witty and inventive, this sophomore effort illustrates just how fearless Jagwar Ma is at harnessing disparate influences to make something new. Who says there's nothing new to say in rock music? Pshaw.
23) SHEARWATER--Jet Plane and Oxbow
Probably the only band to feature an ornithologist (bird studies) as its lead singer, Shearwater have been a going property for nearly twenty years now, and seem to really be hitting a groove with this album in particular. If you like U2 but are tired of the pomposity, this may be up your alley. A brilliant effort from a group that keeps getting exponentially better. Check out the videos of their full cover album of David Bowie's Lodger from earlier this year.
24) MADNESS--Can't Touch Us Now
The nutty boys are back with their eleventh(!) studio album, already a top 5 release in the UK. They sang "Our House" 35 years ago and continue to create amazing song vignettes about people and life in England, such as the fantastic "Mr. Apples" and ode to a granny addicted to gambling "Pam the Hawk". They've still got it.
25) EMPIRE OF THE SUN--Two Vines
The Australian duo continues to refine their sound to a polished sheen of super-catchy electropop on this their third full length. How pop music is supposed to sound in 2016.
26) SHURA--Nothing's Real
The best pop album from a girl in the UK you've probably not heard of before. If you like early Madonna with a tinge of bittersweet shyness, Shura is for you. A pop album with a surprising amount of depth.
27) ST. LUCIA--Matter
This super poppy 80's inspired record came from a New York collective with some of it's origins in South Africa. There is a commitment to melody and energetic tropical pop that seemed to reach epic levels here. Total feelgood music.
28) M83--Junk
Speaking of 80's, M83 did a 180 with this album that confused many of their fans who had grown used to their dark soundtracks to imaginary films. Bubbly 80's synths and cheesy instrumentals meet with a certain French aesthetic and guest vocals from artists such as Beck and Susanne Sundfor, making a left turn of a record that actually sounds like a band having some fun.
29) LADYHAWKE--Wild Things
The last time Pip Brown made an album, she was pushing a driving rock guitar edge that left fans bewildered. Here she seems to flip the opposite direction into super glossy pop territory filtered through an electronic sheen. She sounds much more comfortable here, and there are some seriously good tunes people need to hear more of.
30) PRIMAL SCREAM--Chaosmosis
Bobby Gillespie is often misunderstood. This is part of his charm. It is also his Achilles' heel. He and the Scream are a group willing to try just about anything from record to record, choosing to jettison the angular glam rock of their stunning 2013 album
More Light
for a poppier approach here. Like M83, they confused some of their more casual fans here, but if you followed them for their 30 year career, you know to expect the unexpected. Moreover, this was a very well crafted pop album.
ADDITIONAL FAVORITES:
THE 1975--I Like it When You Sleep, For You Are So Beautiful Yet So Unaware of it...
ANGEL OLSEN--My Woman
BAT FOR LASHES--The Bride
BLOOD ORANGE--Freetown Sound
BRIAN ENO--The Ship
CAR SEAT HEADREST--Teens of Denial
CARLY RAE JEPSEN--Emotion: Side B
CAT'S EYES--Treasure House
CHAIRLIFT--Moth
CHRISTINE & THE QUEENS--Chaleur Humane
DIIV--Is the Is Are
DINOSAUR JR.--Give a Glimpse of What Yer Not
DIVINE COMEDY--Foreverland
DRIVE-BY TRUCKERS--American Band
EAGULLS--Ullages
ED HARCOURT--Furnaces
ELAINE FRIEDBERGER--New View
FLOCK OF DIMES--If You See Me, Say Yes
JAMES--Girl at the End of the World
JAYHAWKS--Paging Mr. Proust
JUSTICE--Woman
KINGS OF LEON--Walls
KRISTIN KONTROL--X-Communicate
LEONARD COHEN--You Want it Darker
LYDIA LOVELESS--Real
MARGO PRICE--Midwest Farmer's Daughter
MICHAEL KIWANUKA--Love & Hate
MINOR VICTORIES--Minor Victories
MOBY--These Systems are Failing
NIGHT BEATS--Who Sold my Generation
PAUL SIMON--Stranger to Stranger
PETER, BJORN & JOHN--Breakin' Point
PREOCCUPATIONS (formerly VIET CONG)--Preoccupations
PRETENDERS--Alone
ROBBIE WILLIAMS--Heavy Entertainment Show
SANTIGOLD--99 Cents
SAVAGES--Adore
SIA--This is Acting
SOLANGE--A Seat at the Table
STURGILL SIMPSON--A Sailor's Guide to Earth
SWANS--The Glowing Man
TEGAN & SARA--Love You to Death
TOM CHAPLIN--The Wave
TOY--Clear Shot
A TRIBE CALLED QUEST--We Got it From Here...Thank You 4 Your Service
THE VEILS--Total Depravity
WEEZER--White Album
XIU XIU--Xiu Xiu Plays the Music of Twin Peaks
WILD BEASTS--Boy King
WIRE--Nocturnal Koreans